Special Guest Speaker
Bill Miller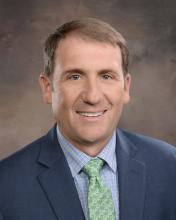 Bill Miller was raised in Cleburne, Texas, graduated from Cleburne High School and received a degree in accounting from the University of Texas at Austin. He began his career with the firm in 1992 and was admitted as a partner in 2004.
Early in his career, Bill was actively involved in the firm's audit practice with a primary emphasis in electric, telecommunications and agricultural cooperatives. He continues his involvement in these areas by heading up the firm's utility tax practice. The focus of the utility tax practice is to provide tax research, tax planning and tax return preparation to and for the firm's audit clients – cooperatives, corporations, partnerships and Not-for-Profit organizations. Bill maintains a direct working relationship with the clients and is active in making presentations about relevant tax issues to clients, Boards of Directors, and related trade associations.
Bill, his wife Kim, daughter Shelby and son Justin are residents of Lubbock and enjoy participating in the ministry of their local church, outdoor activities and spending time with friends and family.
For questions or more information contact:
Michael Rovito, APA Deputy Director, 907-771-5711
Catherine Sullivan, APA Executive Assistant, 907-771-5712